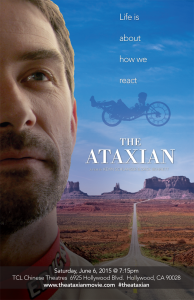 How would you react to a life debilitating and fatal illness? In "The Ataxian," one man shows the world that it is possible to take action and find hope under even the most life-threatening and daunting of circumstances.
At age 17, Kyle Bryant was diagnosed with the relatively unknown progressive neuromuscular disease, Friedreich's ataxia (FA), for which there was no medication, nor cure. As Kyle lost his ability to play his favorite sports and even walk, he began biking long distances in a specially outfitted "trike."
When he is finally relegated to a wheel chair, Kyle decides that enough is enough. He enlists the help of three friends, Sean—who also has FA—John and Mike, and they embark on the "toughest bike race in the world," the Race Across America (RAAM).
In this feature-length documentary filmmakers and childhood friends Kevin Schlanser and Zack Bennett capture what is a grueling 9-day non-stop journey for anyone—much less someone with an energy-depriving affliction—that starts in Oceanside, CA, ending in Annapolis, MD. What happens along the way inspires hope in the hearts of other families battling FA and starts a movement, now known as rideATAXIA.
Set to an incredible soundtrack featuring Bon Iver, Sigur Ros, Belle Brigade, and others, the audience accompanies Kyle and his relay bike team through magnificent sweeping landscapes and the unbreakable spirit of a life-changing cross-country trip that shows: life is about how we react.